Energotechnika Engineering LTD
Engineering Office Energotechnika Engineering Ltd. operates on the market of specialized engineering services.
our offer
certificates
Engineering Office Energotechnika Engineering Ltd. operates on the market of specialized engineering services. Company is established in 2012 thanks to passion and commitment of people with over 20 years professional experience. Today Energotechnika Engineering Ltd. belongs to Rafako SA. Group.
The aim of the company is to build-up a long-term relationships with customers based on high competences, reliability and mutual trust achieved by high quality design,  including innovative solutions, meeting the requirements and expectations of the customer, ending with his satisfaction.
Energotechnika Engineering Ltd. specializes in complex design services for investments projects, beginning from conceptual engineering trough all design phases with design supervisions, ending on commissioning and operation staff training.
The Company employs 90 people. This number includes  engineers with technical university education of power engineering, mechanical, civil, architectural, electrical, HVAC, water treatment, instrumentation and control.
Energotechnika Engineering Ltd. implemented and developed Integrated Management System according to ISO 9001:2008 and OHSAS 18001:2007 standards.
On behalf of the entire team, we cordially invite you to cooperate.
 Energotechnika Engineering Ltd. employs over 90 persons, including engineers with high technical university education degree in following specializations: power, mechanical, civil, architectural, building installation, electrical, water treatment, instrumentation and control engineering.
Company intellectual asset comes out of many years occupational experience of management and design staff. There are specialists awarded by Ministry of Environmental Protection for "Outstanding Achievements in Design" as well as specialists holding the title "Designer of the Year" awarded by Chamber of Civil Design. 
There are also two persons holding the Ph.D. degree. Many company specialists are experts in constructional civil and electricity networks and installations.
The vast majority of employees has many years' experience in direct design, design execution and coordination, during bidding phase, conceptual and special analysis, complex design works, as well as during "turn – key" investment execution. Branch designers hold the appropriate, certified building qualifications in the following specializations: architectural, constructional civil, roads, building installations and electrical.
Design team is equipped with good practical knowledge about rights and obligations of each building process participant covering building permit obtaining, erection management, checking and approval, operation permit, supervision during erection and commissioning.
Thanks to the knowledge and experience, our design is high quality, fairly and precisely made, always on time.
Energotechnika Engineering design office has a highly regarded position on the engineering services market, with the well-established position in energy sector.

The President of the Management Board
Sławomir Kowalczyk
Technology & Power Engineering
Marcin Liszka
Civil Engineering
Piotr Głodny
Commercial Department
Adam Ryguła
FINANCIAL AND HR TEAM
Maria Nadolska
maria.nadolska@ete.com.pl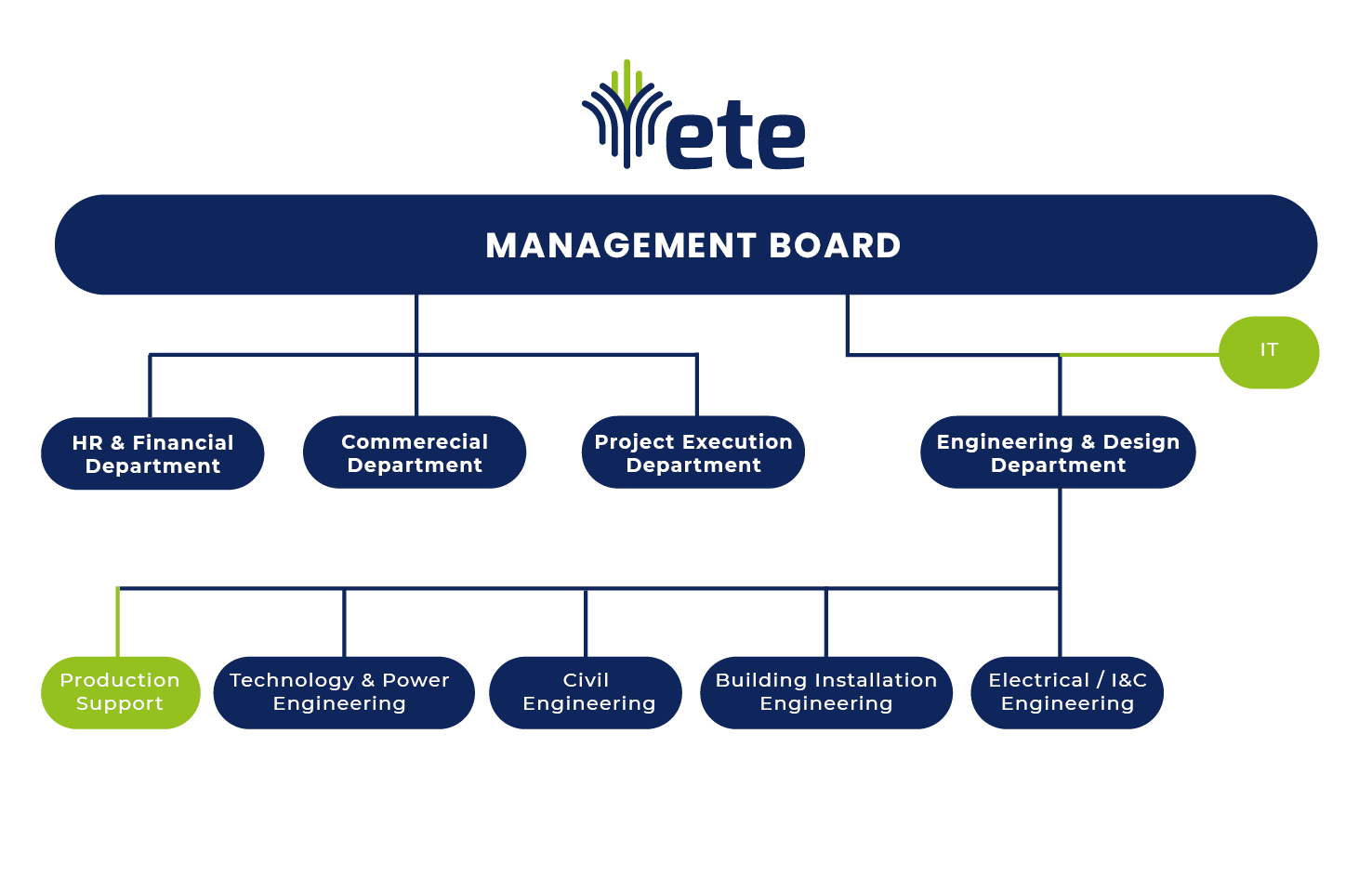 Haven't found the information you need? Conatct us. We are happy to answer all your questions.